All photos taken underwater will be given to everyone
Diving guides take videos and photos underwater.
Photos are given to participants for certified diving and introductory diving.
You will be impressed again with photos and videos of the holes and cave diving you experienced on Miyakojima.
And you will also be able to share this wonderful experience with your fellow divers.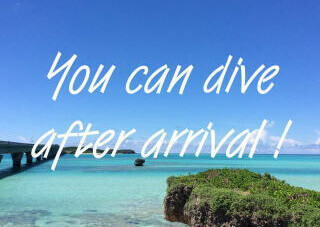 You can dive after arrival
You can dive by arriving until 0:30 pm of the day.
In this case, you can have 1 or 2 dives depending on your arrival time. Of course, you can also dive by boat.
Please let us know your flight schedule at the time of booking.
However, diving may not be possible depending on booking status and schedule.
Whether it is possible will be decided in evening of the day before.
Scuba Diving Jobs in Miyakojima
At our dive shop, we are looking for people who are interested in Scuba Diving work, we are looking for divers who are qualified as a Dive Master or Diving Instructor. Of course, you can apply if you are a certified diver.
Also, Japanese requires Conversational level.
We are looking for energetic, cheerful people who like communication.